BerkeyFiltersUSA LayAway Plan
BerkeyFiltersUSA - Layaway and Financing Plans
Want Your New Berkey Water Filter Later?
We have the most flexible Layaway Plan for those who are planning to purchase a Berkey Water Filter for a future event. It's easy, quick and securely powered by PayPal. You make a down payment (of your choice) and select the number of payments you desire.
PLEASE NOTE: Layaway means that your will make a downpayment followed by a series of monthly payments. AFTER the item on Layaway is fully paid for, THEN your Berkey will be shipped to you.
If you cancel the plan, please be aware that 1.9% of the total purchase price is non-refundable - this is the service fee provided to the finance company and neither you nor us can get it back.
LAY-BUY LAYAWAY PLAN - SEE HOW IT WORKS
Lay-Buy makes it easy for you to buy the products and services that you need by paying for them via a down payment and up to three monthly instalments.
AFFORDABLE: Our calculator allows you to select the down payment you can afford to layby today and the amount of months you need to pay off the product.
SECURITY: All Payments are processed within PayPal's secure environment.
CONVENIENCE: Payments are automatically setup between you and the seller with no intervention by either party ever. Unless a payment is missed.
FLEXIBLE: You can also call us to move the pending payments earlier or later.
CHOICE: A Lay-Buy Payment can be made and recurring profile setup via your PayPal account or your credit card.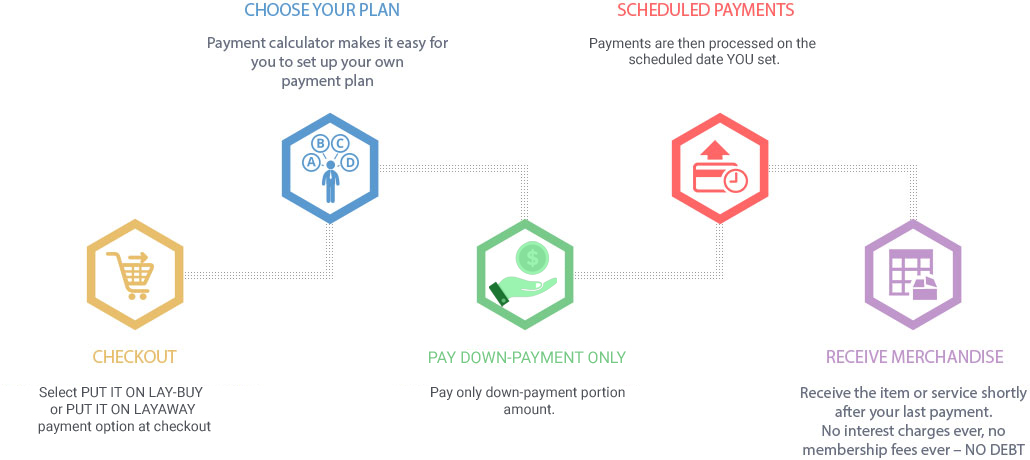 5 SIMPLE STEPS
1. CHECKOUT
Select the normal checkout button (not the PayPal button)
2. PROVIDE SHIPPING AND CONTACT INFORMATION
Please double check your typing, this is the only way we can contact you and the destination to ship your Berkey.
3. SELECT SHIPPING METHOD
We highly recommend
Continental USA - UPS Ground (6-10 day transit)
Off-Continent USA - UPS Air
International - Standard International Service (6-12 day transit)
4. SELECT LAYAWAY PAYMENT (PUT IT ON LAYBUY)
Please ensure the Billing address is correct to avoid a transaction error. Then select "Put it on LayBuy" and Click "COMPLETE ORDER"
5. CHOOSE YOUR LAYAWAY OPTIONS
Payment calculator makes it easy for you to set up your own payment plan.
6. CLICK "PUT IT ON LAYBUY" TO ENTER PAYPAL
Complete down-payment and setup recurring profile in PayPal's secure environment.
SCHEDULED PAYMENTS
Payments are processed by PayPal on the scheduled date YOU set. Check your order status within your PayPal reporting module. Contact us if you want to move your payments earlier or later.
RECEIVE MERCHANDISE
Receive the item or service shortly after your last payment.
No interest charges ever, no membership fees ever – NO DEBT.
***IMPORTANT NOTES***
We believe that knowing what to expect is important to our customers happiness and want to make you aware of the following:
There is a 1.9% up-front, non-refundable administrative fee for all layaway plans. This is charged on the full amount of the purchase including shipping charges. We do not receive this amount, it is paid to our financial partner who coordinates and administers this convenience layaway plan with PayPal.
Cancellation of your Layaway plan will incur a cancellation fee of USD $50.00 which will be withheld from any refund amount due to cancellation.
If the item is returned after receiving the product, the buyer is responsible for proper packing and any shipping charges. Click here for our Return Policy.
Be sure to read our Layaway Agreement which is the agreement that covers your Layaway purchase. Click Here to Read Layaway Agreement Terms.
Want Your Berkey Water Filter Now?
Click here to learn more about our 6 month No Pay/No Interest Payment Plan